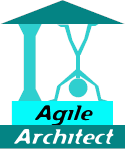 Welcome to the Agile Architect Website!
Bringing Agility to Architecture, and Architecture to Agility
Send Me An Email
You can send me an email using the following form. Once I've heard from you, I will open up my email gateway, and you can then send me emails in the normal way.
I'm terribly sorry I've had to do this, but the global nuisance of unsolicited email, or spam, is causing great problems to legitimate users, and so I can't publish a public email address any longer.